---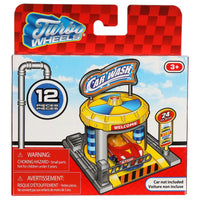 The Car Wash 12 Piece Set is a real-life-inspired modern carwash set that evokes the creative abilities of your child.
Kids set a ramp to move a car through the washing area. Movable foam rollers enhance the play experience and storytelling. This is a great gift for kids 3 years old and up; let them build their own car washer.
The Car Wash 12 Piece Set comes with a car, 2 actionable foam rollers, and a car wash satiation and other accessories. This will expand car collections and stimulate a modern car wash center.
Getting hours of fun and a sense of achievement
Children love telling stories, building new things, and pretending to play. With this imaginative play, kids can build a brand new modern-style car wash center and experience a sense of achievement without frustration.
Get a taste of imagination with Car Wash 12 Piece Set
Once you know how this product provides lots of scope for imagination, you can think of how best to have it. It is made to inspire and educate. The 12 parts, which include rulers and a car pad, are interchangeable and compatible with one another, providing kids with hours of entertainment.
It ensures "why" to "why not"
Designed with adorable material, we aim for the safety and quality of our toys to make sure your children remain healthy and safe while playing. Toddlers can create their own unique stories.
So, book the next adventure for your kids!